---
THE LAST HITCH YOU WILL EVER NEED!
---
Our 3.0" Heavy Duty 4" Drop or Rise Hitch is unlike any of our competitors' products. We worked hard to create 1 amazing Hitch that does the work of 10.
Our hitches are extensively tested and exceed SAE-J684 testing requirements. They are built to such a high standard that we have never had a single failure. You can see why from the features listed below:
Class 5 Hitch with a 22,000 lb Max Towing Capacity & 3,000 lb Tongue Weight Capacity.
3 Ride Heights that are Easily Adjustable.
The 3.0" Heavy Duty 4" Drop/Rise Hitch Weighs 54 Pounds.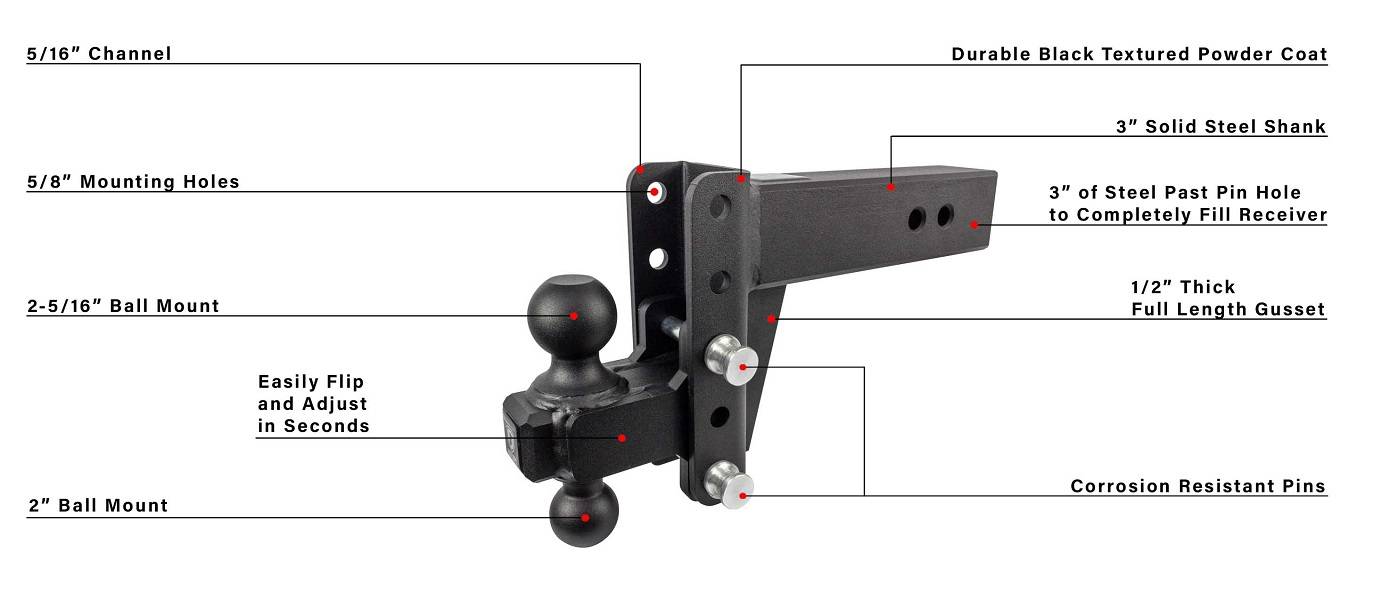 ---
---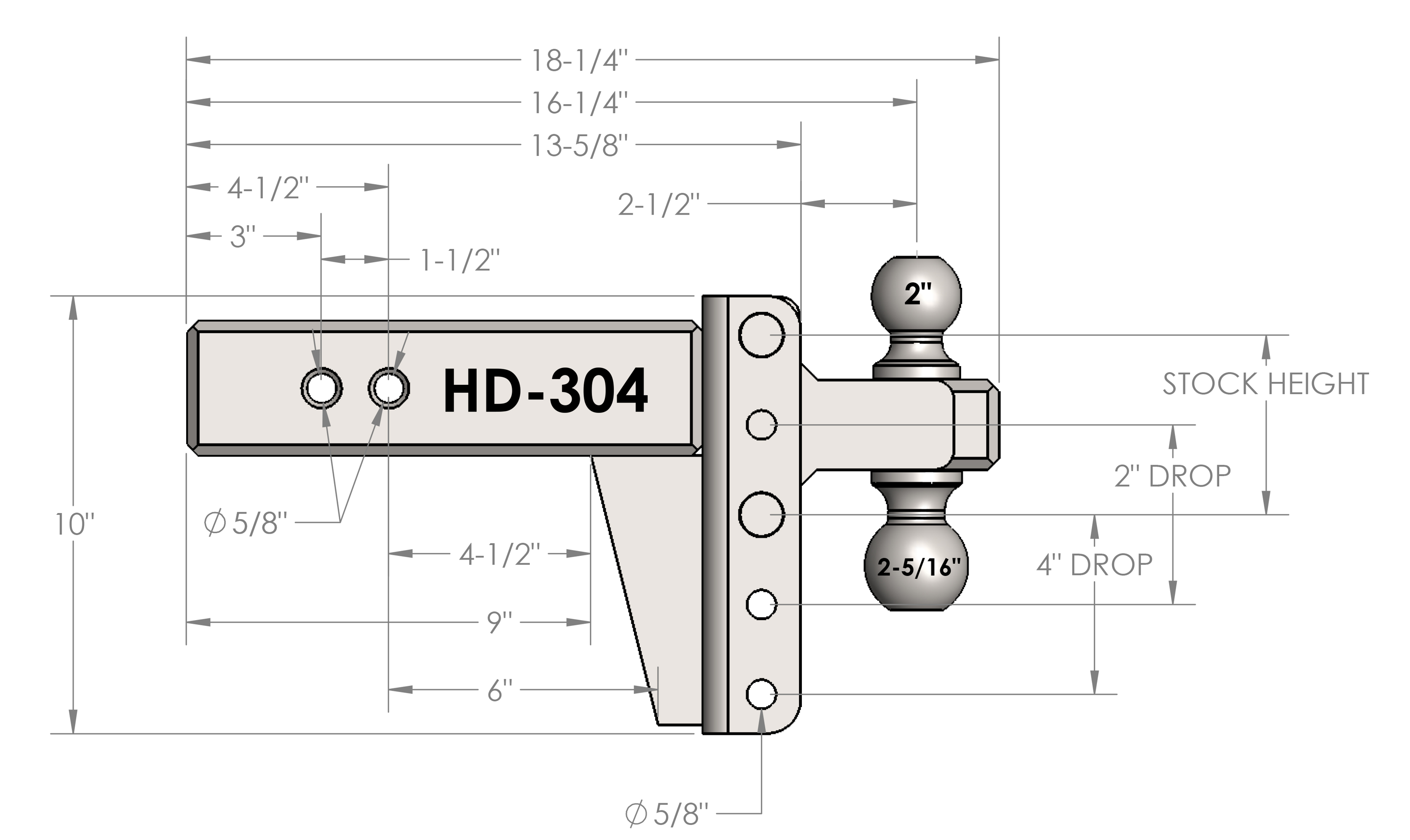 ---
---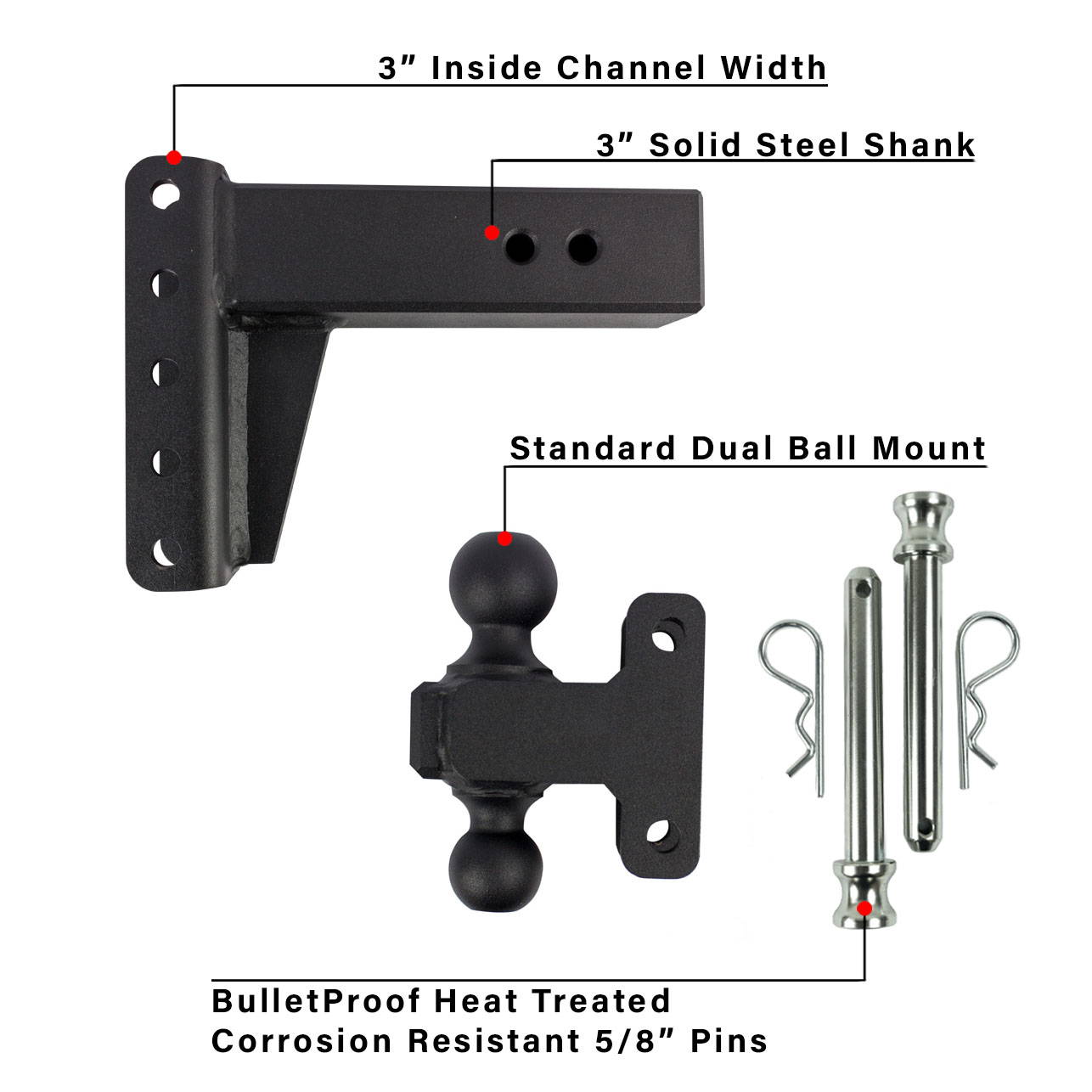 ---
---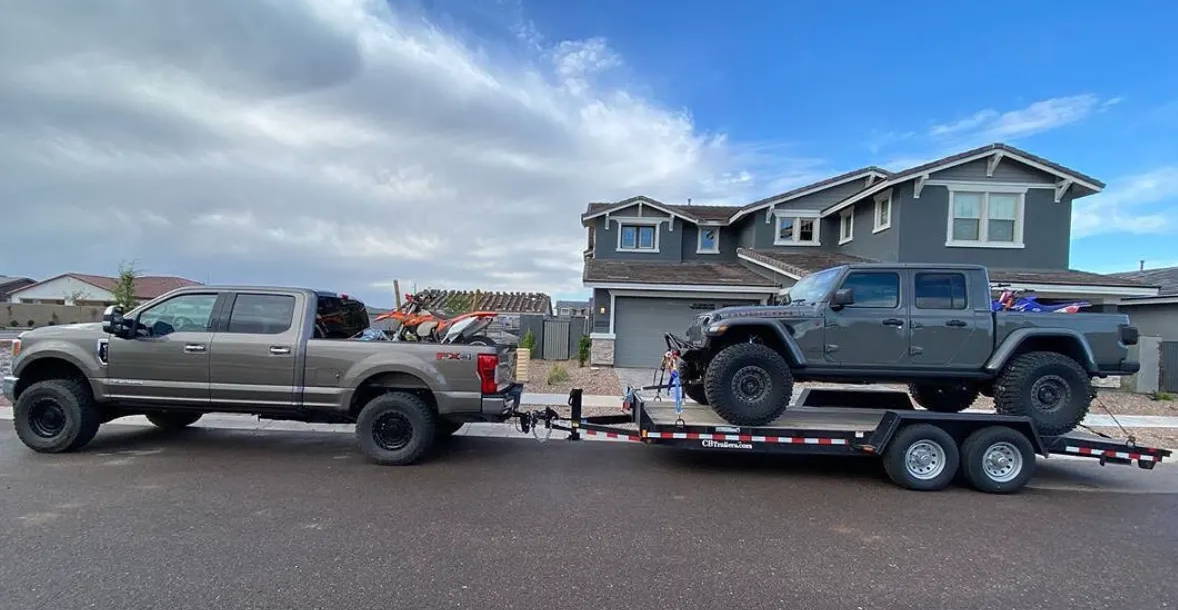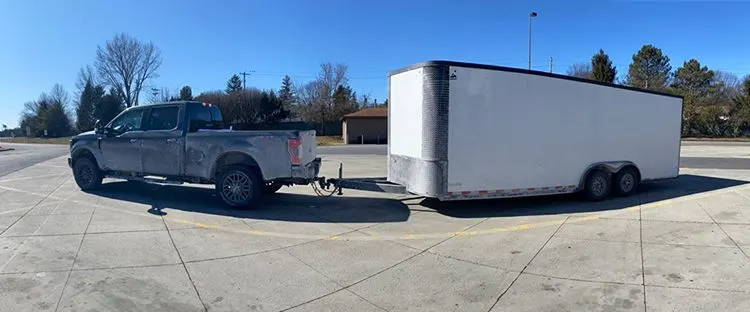 ---
HEAVY DUTY DUAL BALL MOUNT
---
Each adjustable mount includes a 2-ball platform, which fits in the adjustable channel of the hitch. The 2 hitch balls are welded together onto the solid steel platform for maximum strength and stability.
Note: We can include any of the dual ball size combinations listed below with your hitch order.
Select the sizes needed for your dual ball from the drop-down menu above.
Available Dual Ball Combinations Include:
2" & 2-5/16" Dual Ball — No Additional Cost (Most Common Size)
1-7/8" & 2-5/16" Dual Ball — No Additional Cost
Heavy Duty Sway Control Ball Mount — $74.95 Upgrade
2" & 2-5/16" Dual Ball AND 1-7/8" Single Ball Mount — $89.95 Upgrade
Heavy Duty Dual Ball Weight Ratings
1-7/8" Ball: 6,000 lb Rating
2" Ball: 12,000 lb Rating
2-5/16" Ball: 22,000 lb Rating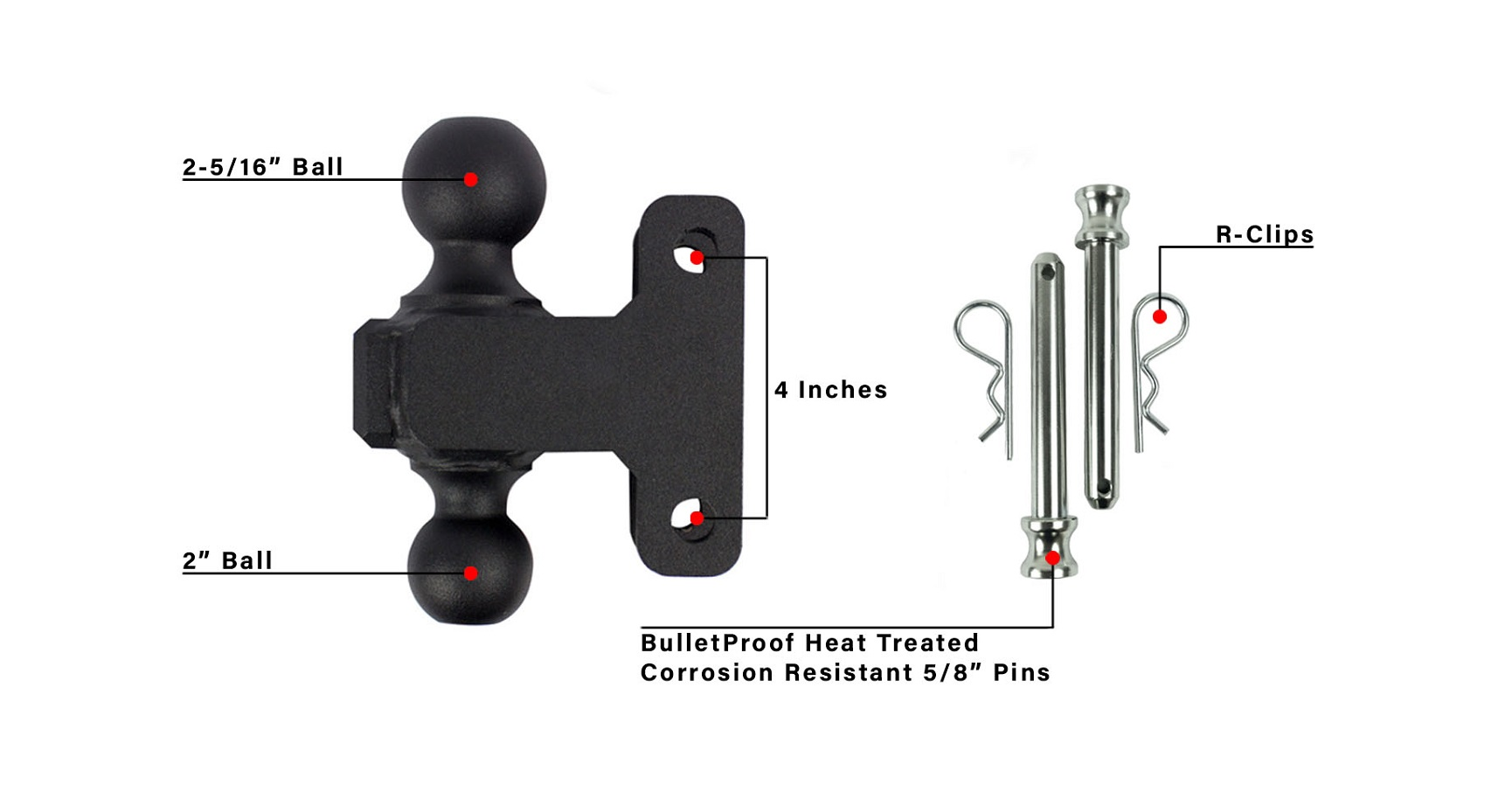 ---
---
The Heavy Duty and Extreme Duty hitch shanks are solid steel all the way through and have chamfered edges so that they can easily slide into & out of your hitch receiver. The Solid Steel Shank also comes with two pin holes on the shank for more adjustment options.
The textured powder-coated finish creates a durable surface to help protect your hitch.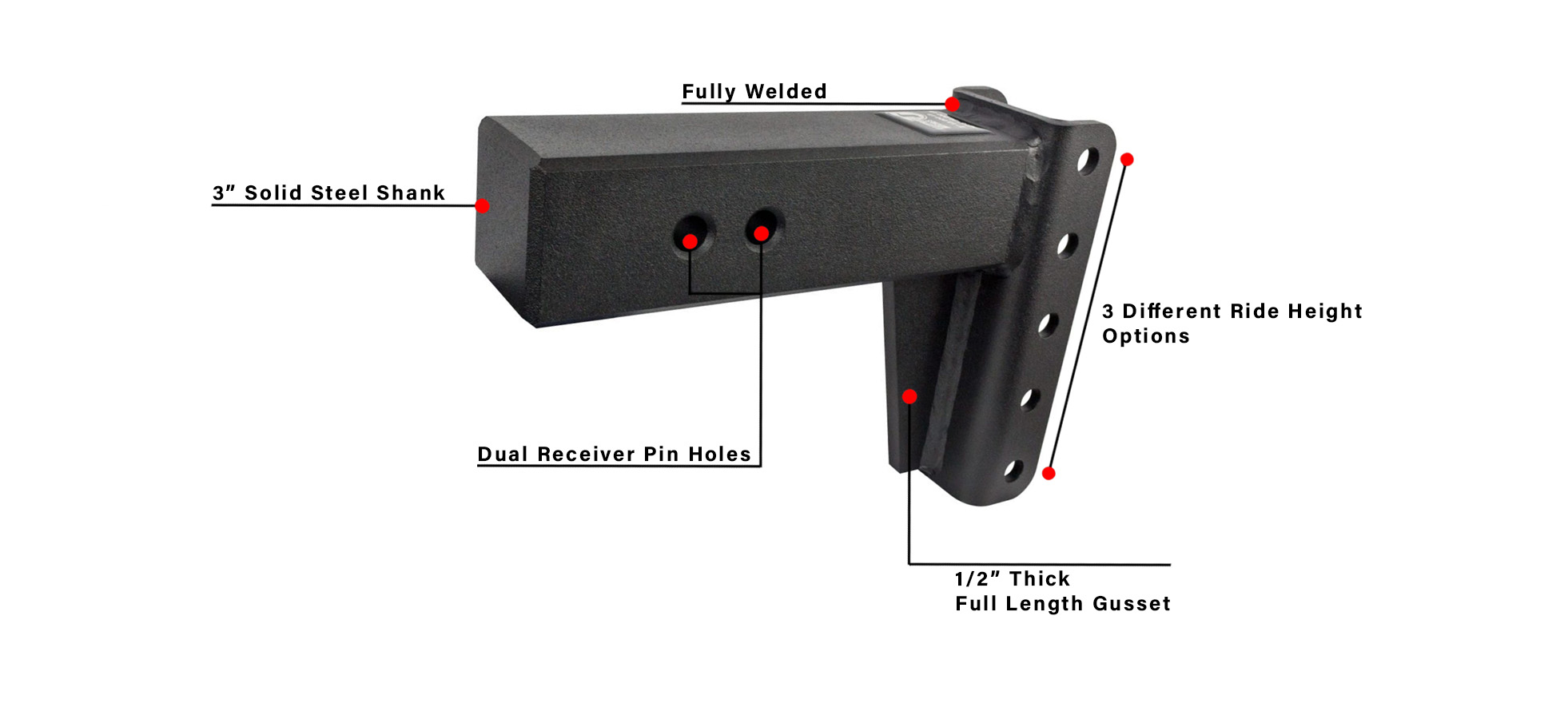 ---
SIGNATURE BLACK TEXTURED POWDER COAT
---
All BulletProof Hitches™ feature a durable corrosion-resistant powder coat. This process starts with an aggressive sandblast to remove all impurities and create a clean surface for the powder coat. After the sandblast process, the hitch moves through a 5-stage pretreatment wash to remove any oil or residue. The metal itself is then sealed to eliminate the possibility of corrosion. The final step is an application of our signature black textured powder coat which is applied by a Fanuc robot to ensure consistent thickness across the hitch.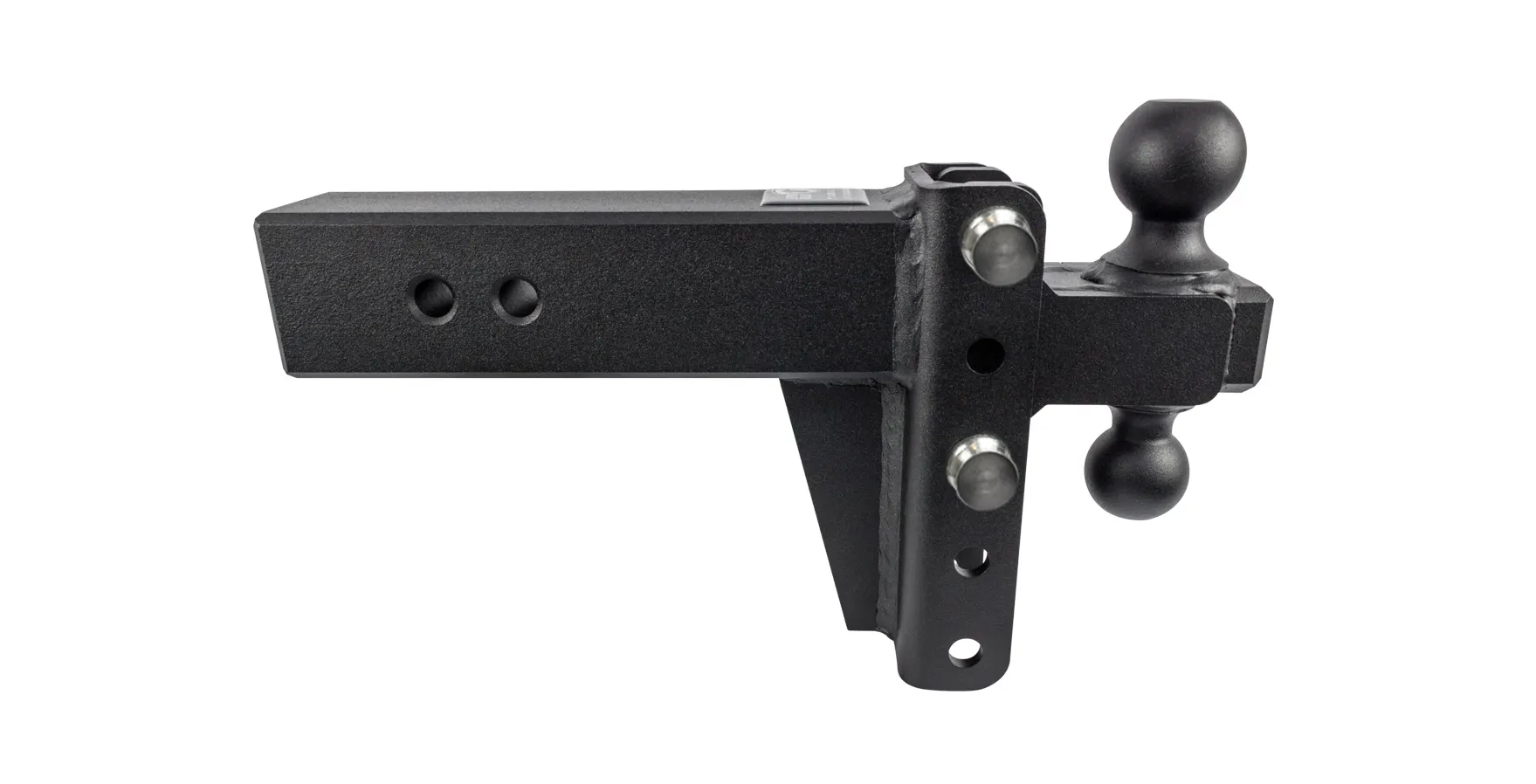 ---
---
The components of the BulletProof Hitch™ are machined in house on our state-of-the-art Haas CNC machines. These CNC machines use Renishaw probes, allowing us to manufacture all of our parts to an extremely tight tolerance. This primarily ensures that each hitch and ball combination fit together without slop or excess movement when attached to your vehicle.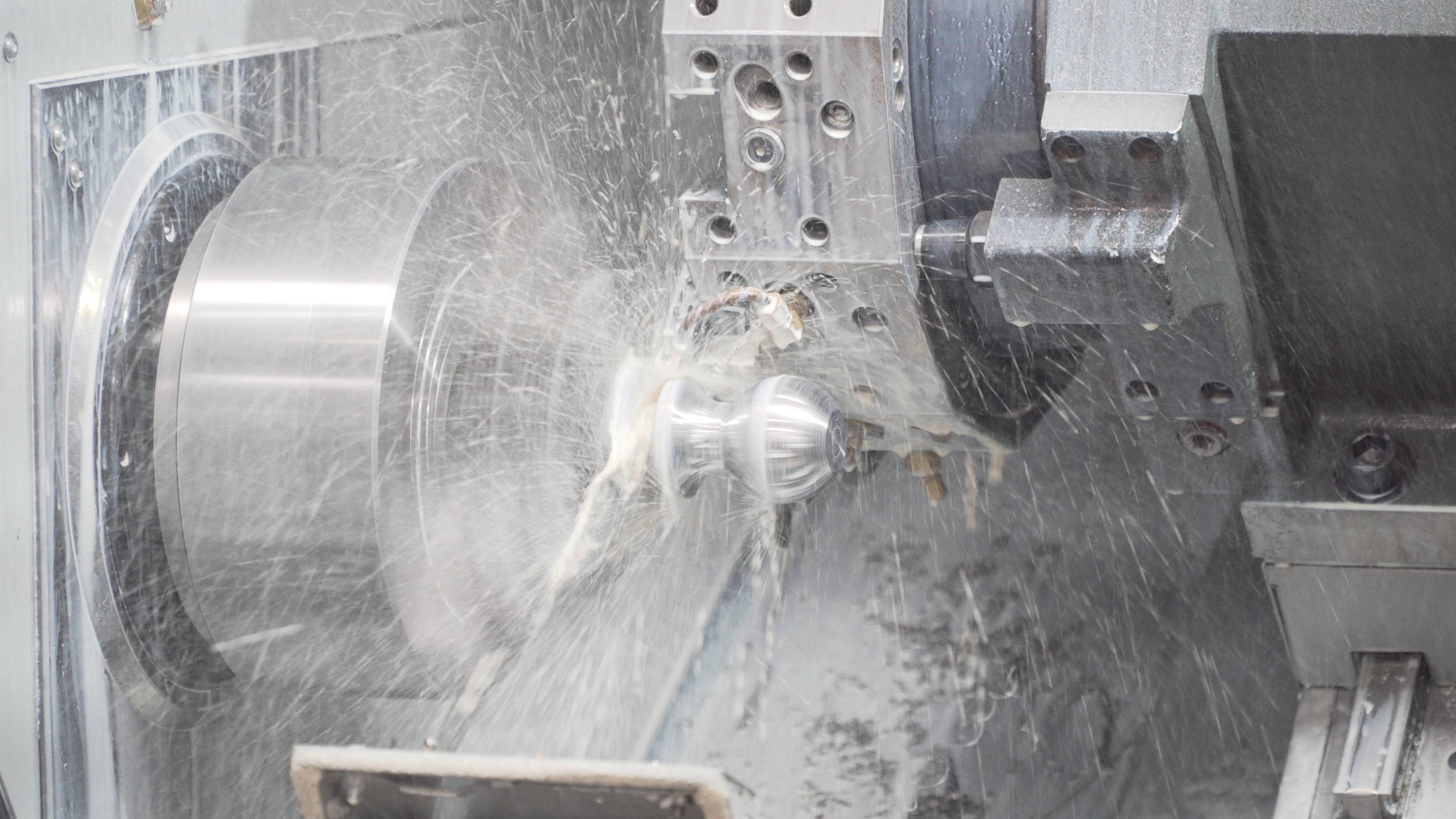 ---
Using Our Hitches in the Rise Position
---
All of our hitches can be used in the drop or rise position and maintain the same weight capacity in either position.
This 3.0" Heavy Duty 4" drop/rise hitch has a max towing capacity of 22,000 lbs and a tongue weight capacity of 3,000 lbs in both the drop & rise positions.
---
Compare The BulletProof Heavy Duty vs. Extreme Duty Hitch
---
| | |
| --- | --- |
| 3" Heavy Duty 4" Drop/Rise Hitch | 3.0" Extreme Duty 4" Drop/Rise Hitch |
| | |
| | |
| Max Towing Capacity Rated to 22,000 lbs | Max Towing Capacity Rated to 36,000 lbs |
| Tongue Weight Capacity Rated to 3,000 lbs | Tongue Weight Capacity Rated to 6,000 lbs |
| Compatible With Pintle Attachment (22,000 lb Towing Capacity) | Compatible With Pintle Attachment (36,000 lb Towing Capacity) |
| | |
---
---
---